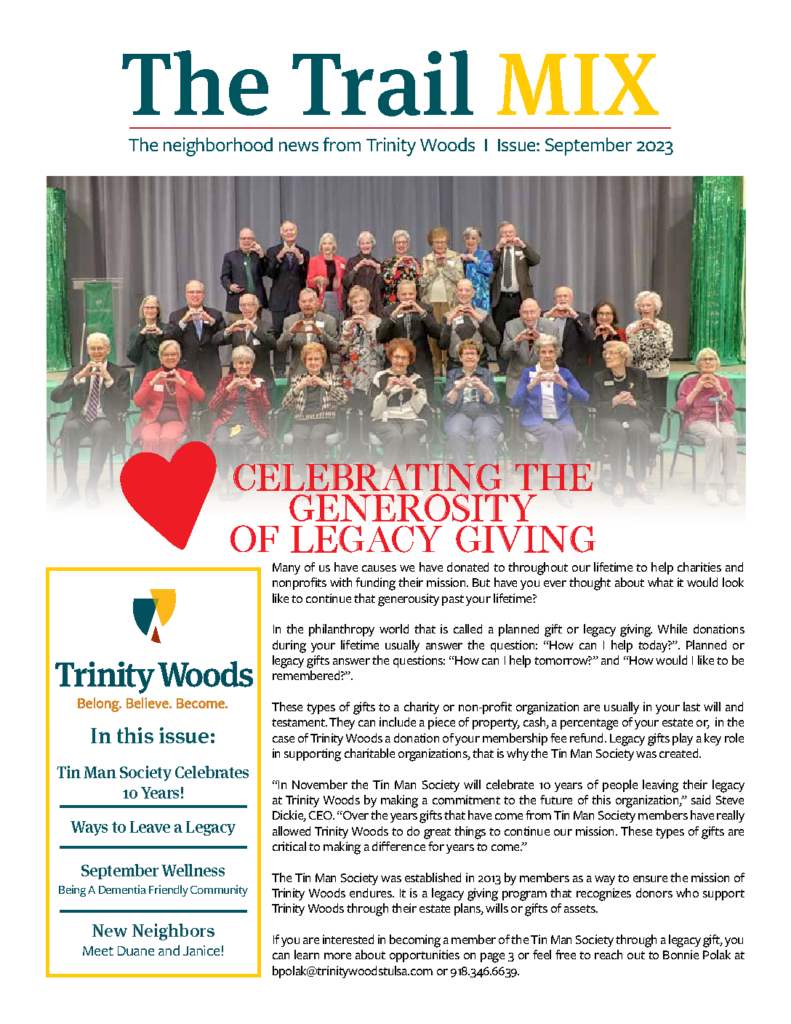 In This Issue:
The Legacy of Trinity Woods!
For more than 65 years, Trinity Woods has been serving people in the spirit of Christ. But that would not have been possible without gracious donors who believed in our mission and purpose. There is not a building on this campus that has not been made possible without philanthropy – Spann Wellness Center, Fleming Center, Holliman Center and the Community Life Center. That kind of true partnership is what makes Trinity Woods special.

"In November the Tin Man Society will celebrate 10 years of people leaving their legacy
at Trinity Woods by making a commitment to the future of this organization," said Steve
Dickie, CEO. "Over the years gifts that have come from Tin Man Society members have really
allowed Trinity Woods to do great things to continue our mission. These types of gifts are
critical to making a difference for years to come."
Trinity Woods' legacy of giving is reflected every day in the dedicated efforts of our Board, employees, community members, and donors who have shaped our community for the better. The power of philanthropy is what changes organizations – some givers may never see their gifts come to fruition but can courageously imagine what is possible. It is the givers who ensure there will always be a home where elders find a life worth living.
September STAR Employee of the Month announced – Heidi!
September Wellness Events
This month we host the Tulsa Community Band in a special outdoor concert. We are excited to welcome Trinity Woods loved ones for the annual Trinity Woods Family Day! In honor of grandparents day, we invite all generation out to see campus and experience a day of fun activities for all ages. Supper & A Show features Reflejos Flamencos an spicy and romantic, Spanish flamenco dancing team. Meet new friends as well as enjoy a casual meal and some great music.
New Neighbors
Meet Duane and Janice!