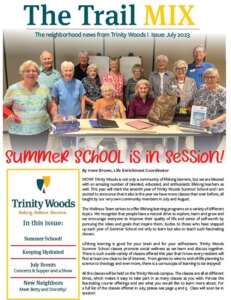 In This Issue:
Summer School is in Session!
We are excited to announce that the Trinity Woods Summer School sessions are back by popular demand – and there are more options than ever for lifelong learning!
This year will mark the seventh year of Trinity Woods Summer School all taught by our very own community members in July and August.
All the classes will be held on the Trinity Woods campus. The classes are all at different times, which makes it easy to take part in as many classes as you wish. Peruse the
fascinating course offerings and see what you would like to learn more about. Class will soon be in
session!
July STAR Employee of the Month are announced – Angie!
July Wellness Events
In July we will feature young talent from Tulsa with the Young Talent Discover Night and we are excited to welcome back Barron Ryan for a special piano concert. It wouldn't be the Trinity Woods neighborhood without Supper & A Show. Singer Janet Rutland and her husband, fiddler Shelby Eicher, return for a night of country music with plenty of Patsy Cline. They'll be joined by Spencer Sutton on piano and Rodney Lay on bass. Join in this relaxed gathering that is a chance to meet new friends as well as enjoy a casual meal and some great music!
New Neighbors
Meet Betty and Dorothy!