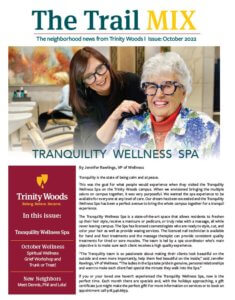 In This Issue:
Tranquility Wellness Spa
Are you looking for a more tranquil life? Well look no further – the Tranquility Wellness Spa is just the place. This state-of-the-art spa allows residence to freshen up their hair, get a manicure or pedicure and for real relaxation a massage. This month we are also offering a grief Workshop for people looking for support through any type of loss. We also announce the October STARS Employees of the Month – Stephanie and Kelley!
October Wellness
We are excited to extend an invitation to community members and friends to the Annual Trinity Woods Trunk or Treat event scheduled for October 28. October will host many events from concerts, book clubs, pickleball and Fall Festival!
New Neighbors
Meet Dennis and Phil and Lela!
October Availability
This month we announced an amazing Year End Special for the Felt House. Click here for more information!