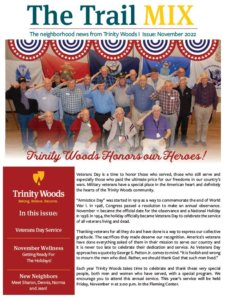 In This Issue:
Celebrating Trinity Woods Veterans
This month we highlight those who serve and have served our country with honor – American veterans. Every year Trinity Woods takes time to celebrate and thank these very special people, both men and women who have served, with a special program. The event this year will be held Friday, November 11 at 2 p.m. in the Fleming Center.
Make sure you check the new name of the Bargain Basement – The Treasure Chest!
We also announce the November STARS Employees of the Month – Michael and Anderson!
November Wellness
As the holidays approach Jennifer Rawlings, VP of Wellness, shares tips for managing stress and keeping fit. There are also several featured events this months – Conversation with Chief Wendell Franklin, Dancing with Michael Loman and a Thanksgiving Reception!
New Neighbors
Meet Sharon, Dennis and Norma, and Jean!
November Availability
We are featuring the Maple floor plan in Crestwood. Click here for more information!