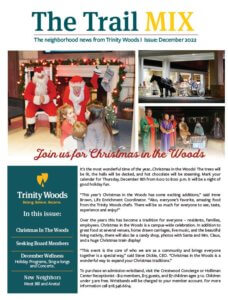 In This Issue:
It's Christmas Time at Trinity Woods
Seasons Greetings! You're invited to Christmas in the Woods. Our annual holiday tradition that puts everyone in the Christmas spirit. This year the event is scheduled for Thursday, December 8th.
Trinity Woods is seeking Board Nominations.
We also announce the December STARS Employees of the Month – Mandie!
December Wellness
There are several special services to highlight the holiday – Christmas Service hosted by Boston Avenue and New Year's Eve Service. Additionally this year brings lots of opportunities for music and holiday tunes. Mark your calendar for all the events, from sing-a-longs to piano concerts you will not want to miss anything this month.
New Neighbors
Meet Bill and Aneta!
December Availability
We are featuring the Magnolia floor plan in Crestwood. Click here for more information!