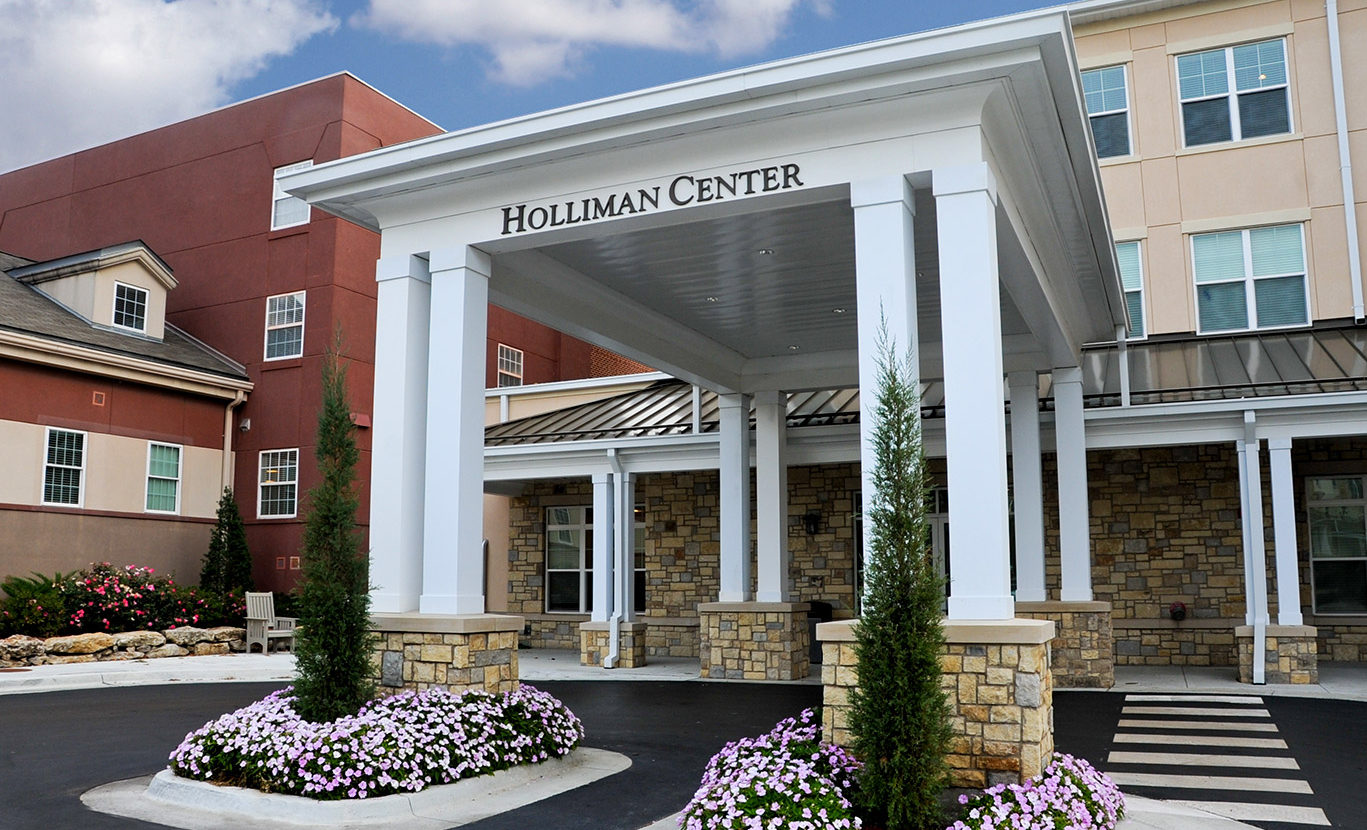 Holliman Center
Assisted Living
1-2 Bedrooms
1-2 Bathrooms
The Holliman Center, our assisted living building, it is one of the newer buildings on campus opening in January of 2020. This three-story, beautifully decorated building is not only home to 40 assisted living apartments on the second and third floor but also features several campus amenities. The first floor has a welcoming reception area and is home to the Cypress Grille restaurant, Tranquility Wellness Spa and Churchill Creative Studio. All the open spaces provide lots of sunlike to make you feel right at home.
The Holliman Center offers studio apartments, one-bedroom or two-bedroom suite and they are furnished it with your personal furniture, decor items, and computer… all the touches that mean so much to you and make it home. Did we mention you can even bring your pet?
Just as important, the Holliman Center is where you can count on having just the help you need with the tasks of daily life – everything from bathing and dressing to medication management. Our licensed staff and certified caregivers provide the assistance needed at an all-inclusive rate.
If the Holliman Center is the right choice for you or your loved one there are a broad choice of activities. Whether you love art, music, intellectually stimulating discussions or guest lectures with photographs and adventurous tales of foreign lands, there is a lot to do.
Community members are invited to help with planning and a full-time Wellness Coordinator arranges entertainment and events, such as games, exercise classes, movies, speakers, holiday parties, and special health events. The entire staff offers the compassion and friendliness that makes the Holliman Center a great neighborhood to call home.
2 Bedroom Apartment

815 Sq. Ft. – 2 Bedrooms / 1.5 Baths

2 Bedroom Apartment Floor Plan

1 Bedroom Apartment

527 Sq. Ft. – 1 Bedroom / 1 Bath

1 Bedroom Apartment Floor Plan

Studio Apartment

377 Sq. Ft. – 1 Bedroom / 1 Bath

Studio Apartment Floor Plan
What is Included?
Services and Amenities
Trinity Woods is proud to offer a broad range of amenities and services so that you can expect a comfortable lifestyle. The campus was designed exclusively for creating an environment that is beautiful and pleasing. The top priority for every member of our staff is customer satisfaction.
Beautifully landscaped 40-acre campus
Walking paths and water features
Private dining and catering services
Three libraries
Member's Club room
Concierge service
Classrooms where professional instructors and lecturers present curriculum linked with the Seven Dimensions of Wellness and guest speakers address issues of interest
Overnight guest suite
Two beauty salons
On-site massage therapist
Wellness Nurse
24-hour security
Theater room
Member business center with personal mailboxes
Hobby Zone
Conference, private meeting, and game rooms
Postal service center
On-site Chapel and outdoor Prayer Labyrinth
Fleming Center auditorium