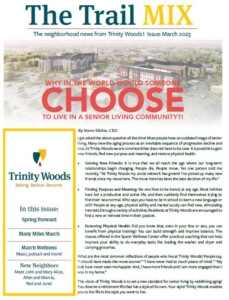 In This Issue:
Why Choose a Senior Living Community!
Steve Dickie, CEO of Trinity Woods, discusses the most frequently asked questions and what Trinity Woods residents say about living here. Learn more about Tulsa senior living and if the choice is right for you. It's spring and a great time to get more active. Make sure you checkout the articles on spiritual and physical health.
March STAR Employees of the Month are announced – Carlena and David!
March Wellness
This month kicks off with a fully staged musical featuring Pete 'n' Keeley. We also welcome Scott McQuade, jazz pianist, for the first time in concert on campus. The month won't be complete without "Supper and a Show" the entertainment will feature "swing" and a great meal!
New Neighbors
Meet John and Mary Alice, Allen and Marcia, and Red and June!