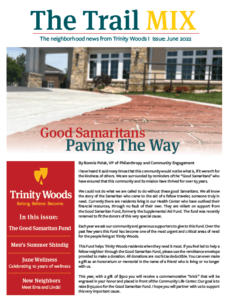 In This Issue:
Good Samaritan – Paving the Way
This month we talk about being the Good Samaritan for your neighbor. We also celebrate 10 years of wellness at Trinity Woods. We look back at what we have achieve and honor those who began the journey with when we opened Crestwood. Join us for a Crestwood birthday party on June 10th! We announce the May STARS Employee of the Month – Rosal!
May Wellness
We announce Wendell Franklin, Tulsa Chief of Police, as the special guest for the annual Men's Shindig. Featured events include a trip to Oklahoma City, Don Irwin piano concert, Richard Miller guitar concert and Book Club with Mary Helen Stanley, a community favorite.
New Neighbors
Meet Erna and Linda!
June Availability
This month we are showcasing the brand new Villa that is available. Click here for more information!