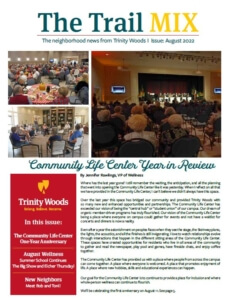 In This Issue:
Celebrating One Year for the Community Life Center
It has been one year since we opened the Trinity Woods Community Life Center. This space has allowed us to truly bring together our community in so many ways. We are excited to host "The Big Show" to celebrate this special anniversary with lots of performers and fun! We announce the August STARS Employees of the Month – Clarence and Amy!
August Wellness
This month we finish out our summer school schedules with Japanese Culture, Jewelry Making and Recycling. We also are excited to announce the new Biodex Balance System to our therapy program. We also have the Eicher Thursday concert for the music lovers in the neighborhood!
New Neighbors
Meet Bob and Toni!
August Availability
This month we are showcasing the Patio Homes residences. Click here for more information!