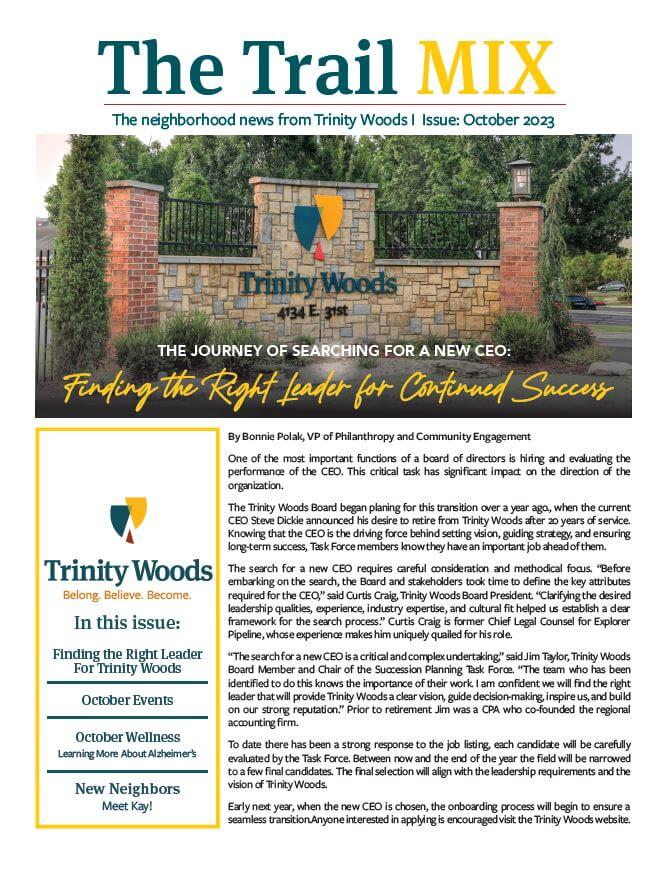 In This Issue:
Searching for a New CEO
The Trinity Woods Board began planning for this transition over a year ago. When the current CEO Steve Dickie announced his desire to retire from Trinity Woods after 20 years of service. Knowing that the CEO is the driving force behind setting vision, guiding strategy, and ensuring long-term success, Task Force members know they have an important job ahead of them.
"The search for a new CEO is a critical and complex undertaking," said Jim Taylor, Trinity Woods
Board Member and Chair of the Succession Planning Task Force. "The team who has been
identified to do this knows the importance of their work. I am confident we will find the right
leader that will provide Trinity Woods a clear vision, guide decision-making, inspire us, and build
on our strong reputation."
To date there has been a strong response to the job listing, each candidate will be carefully
evaluated by the Task Force. Between now and the end of the year the field will be narrowed
to a few final candidates. The final selection will align with the leadership requirements and the
vision of Trinity Woods. Early next year, when the new CEO is chosen, the onboarding process will begin to ensure a seamless transition. Anyone interested in applying is encouraged visit the Trinity Woods website.
October STAR Employees of the Month announced – Aaron and Nita!
October Wellness Events
This month we host the Fall Festival! It will be a great evening with outdoor games, food and concert. We also are hosting the talented students from Metro Christian Academy. They will be showcasing their One Act Play – Unsounds Effects. This month wouldn't be complete without a neighborhood favorite – Trunk or Treat on October 27th!
New Neighbors
Meet Kay!