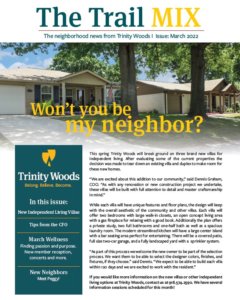 In This Issue:
Announcing New Independent Living Options
We are excited to offer three new villas. Learn more about these new homes coming to campus. Chaplain Weldon Tisdale, welcomes all to the Ash Wednesday service. We also celebrate the March STARS Employees of the Month – Amanda and Harriet!
March Wellness
Trinity Woods person centered approach to wellness and all the ways on ways to engage on campus. This month's events feature concerts, book club and a St. Patrick's Day Celebration.
New Neighbors
Meet Peggy!