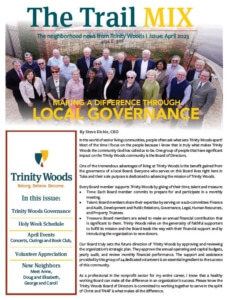 In This Issue:
Making a Difference Through Local Governance!
Meet the Trinity Woods Board of Directors. In the world of senior living communities, people often ask what sets Trinity Woods apart? Most of the time we focus on the people because that is truly what makes Trinity
Woods the community God has called us to be. One of the tremendous advantages of living at Trinity Woods is the benefit gained from the governance of a local Board.
April STAR Employees of the Month are announced – Dunel and Maria!
April Wellness
We highlight Holy Week programs. The TW Wellness Nurse offers ways to help deal with stress. And we can't forget all the events – Wednesday Morning Musicale celebrates its 100th anniversary concert on our campus! Learn more about Volunteer Appreciation Week from Life Enrichment Coordinator, Irene Brown.
New Neighbors
Meet Anne, Doug and Elisabeth, and George and Carol!