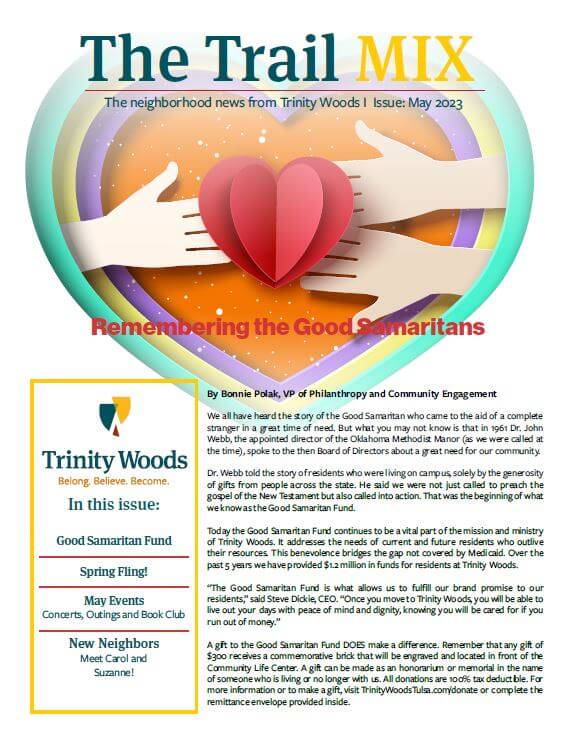 In This Issue:
Remembering the Good Samaritans
As we look forward to the month of May and Memorial Day, we take time to remember all the Good Samaritans who have left their mark on the campus and residents at Trinity Woods. We are surrounded by reminders of the "Good Samaritans" who have ensured that this community and its mission have thrived for over 65 years.
Each year we ask our community and generous supporters to give to the Good Samaritan Fund. Over the past few years this Fund has become one of the most urgent and critical areas of need for the people living at Trinity Woods. This Fund helps Trinity Woods residents when they need it most. If you feel led to help a fellow neighbor through the Good Samaritan Fund, please make a donation.
Click here to donate to the Good Samaritan Fund.
May STAR Employee of the Month are announced – Greg!
May Wellness
In May we celebrate all the ladies who live in the Woods with a special Ladies Luncheon with special guest Lisa Bain. Also coming this month is the rescheduled Pete 'n' Keely performance, that you won't want to miss. And we can't forget about – Spring Fling! We will gather with friends and neighbors to enjoy good food, games and music for this annual outdoor event.
New Neighbors
Meet Carol and Suzanne!
May Availability
Looking for a retirement lifestyle. Check out these great options that are available now! Click Here