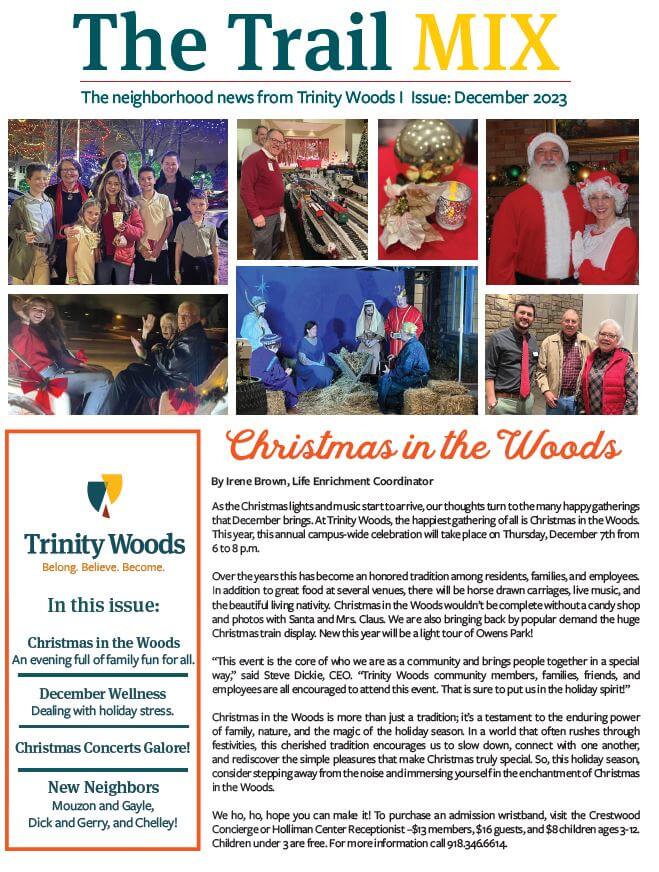 In This Issue:
Christmas in the Woods
It's beginning to look a lot like Christmas on the campus of Trinity Woods. Lights, holiday activities and Christmas in the Woods! We are excited to host this annual holiday favorite. On Thursday, December 7th from 6 to 8 p.m. Trinity Woods will showcase a night of good old-fashioned holiday fun.
"This event is the core of who we are as a community and brings people together in a special way," said Steve Dickie, CEO. "Trinity Woods community members, families, friends, and employees are all encouraged to attend this event. It is sure to put everyone in the holiday spirit!"
New Vice President of Human Resources announced, Crystal Creekmore.
December STAR Employees of the Month announced – Jennifer and LeaAnn!
November Wellness Events
Wellness Nurse, Lupina Fry, share some tips for coping with holiday stresses. No matter the cause of your mood or feelings, it's important to have a toolkit of healthy coping strategies.
We also celebrate the holiday season with lots of Christmas events that will showcase Tulsa talent – Sistema Tulsa, Regent Preparatory Choir, United Methodist Bell Choir and a special Christmas piano concert featuring Don Irwin.
New Neighbors
Meet Mouzon and Gayle, Dick and Gerry and Chelley!