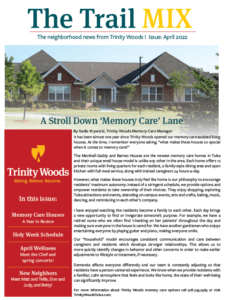 In This Issue:
Memory Care Houses – A Year in Review
It has been one year since we opened the Marshall-Gaddy and Barnes memory care assisted living houses on campus. In this issue we hear from Memory Care Manager, Sadie Krywicki about what makes these houses so special. We also celebrate the April STARS Employees of the Month – Delisa and Japhari!
April Wellness
Trinity Woods announces the return of Meet the Chef! We also highlight all the Holy Week services on campus with special guest speakers. This month we several different concerts along with the book club.
New Neighbors
Meet Matt and Teilla; Don and Judy; and Betty!